ON SALE / FREE Shipping / We Ship Same or Next Day ... Made in USA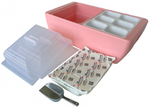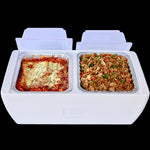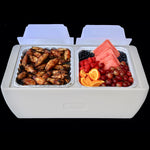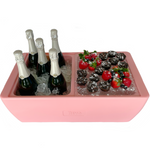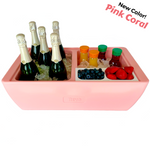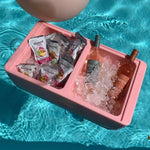 REVO Dubler HEAT | Flameless Chafer and Cooler | Pink Coral
Regular Price

$189.88

Sale Price

$189.88

Regular Price

$299.88

Unit Price

per
DUBLER HEAT  Flameless Chafer and Cooler - Pink Coral

The Dubler HEAT, a combo Dubler with Heat Packs, is a unique innovation as a modern flameless chafer and cooler combination that fits two 1/2 size food pans up to 4" deep (more than the 2.5" deep in a standard chafer). The Dubler does not generate heat but the premium insulation, along with the microwaved heat packs and placing hot food trays straight from oven, all provide a slow drop in temperature over time. 
The outside will remain safe to touch for easy mobility.
The length of time of hot food depends on several variables.  Drop in microwaved heat packs*, followed by
 hot food pans right out of the oven and cover.
Dense foods like lasagna will stay hot longer than something like chicken wings.
The amount of service with lids off will also have an affect.
A lot of food service happens within a hour and your food will be hot.
If not touched and left covered, you should still have very servable warm food up to 5 hours later.
* Microwave the heat packs until they just begin to swell and stop (approximately 3 to 5 minutes). Microwaves have a wide range of heat capability and overheating will cause the bag to leak or burst.
And of course, it is a Dubler Cooler and used for all of those chilled applications with beverages, food trays or chill boards for charcuterie.  
* No open flame, fuel cost or landfill waste.
* Heat packs can be used up to 300 times.
* Most environmentally friendly chafer.
* No worry about keeping flame lit outdoors in wind.
* Cooler remains safe to touch and easy to transport.
* Hand grips for easy mobility.
* Cooler also used for chilled beverages, food trays and chill boards.
Specifications:
24.5" x 14" x 7.5"h
 and  17 lbs.
Holds two 1/2 size pans or four 1/4 size pans.
Holds 24 bottles/cans or 12 bottles of wine
Includes: 
3 condiment trays, 2 lids, aluminum ice scoop and 2 microwavable heat packs. 
(condiment trays are dishwasher safe - ice scoop is hand wash only)
Hawaii +$69 shipping
5 year warranty - Made in the USA